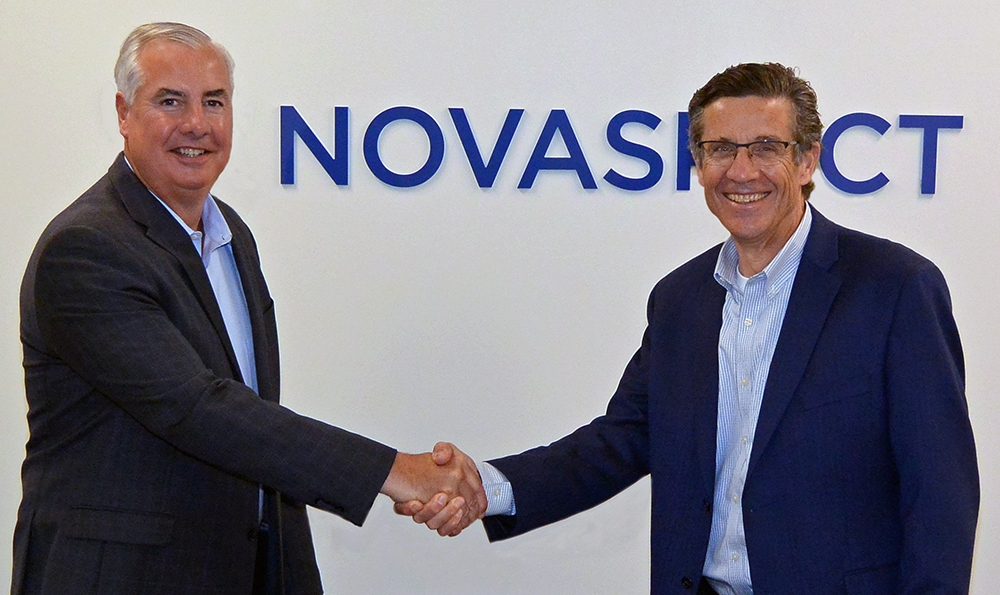 Novaspect President Joe Simchak (left) and Stover Controls President John Dawley shake hands after signing the merger contract recently at the Schaumburg, IL headquarters. The merger brings two leading regional process automation companies, and Emerson Impact Partners, together to further enhance their ability to solve complex problems with local, reliable and seamless automation solutions and associated services.
[ SCHAUMBURG, IL and MARSHALLTOWN, IA -- October 1, 2020 ]
Today Novaspect and Stover Controls announced that the two companies are merging. As Emerson Impact Partners, the combined organization will further enhance their ability to offer the combination of Emerson's proven technologies and processes with local expertise and support to deliver consistent, reliable and predictable customer outcomes. 
"This merger provides significant value to all stakeholders: customers, communities, employee owners, and business partners. Together we have over 160 years of experience applying process control technologies to increase the success and sustainability of our customers and our communities. We look forward to the impact of our combined efforts and continued investment," says Joe Simchak, President of Novaspect.   
The organizations will combine their collective expertise and industry knowledge to offer a broader portfolio and drive increased service levels for their customers. Together, the two companies will be able to immediately expand the Stover Controls offering to provide enhanced product inventory and assembly, fabrication capabilities for panels and skids, a comprehensive offering for valve and actuator repair services, reliability services and services to support customers on their digital transformation journey.   
John Dawley, president of Stover Controls says, "The most important element of this merger, and the reason we're doing it, is because it's good for our customers. It will allow us to bring more resources to bear in our quest to help our customers be even more successful." The combined company will go to market under the Novaspect brand with coverage in Illinois, Iowa, Nebraska, North Dakota, South Dakota, Minnesota, Wisconsin, Northwest Indiana, the Upper Peninsula of Michigan and a small part of Missouri. Additionally, Midwest Valve Services, a subsidiary of Novaspect, will expand into the current Stover Controls territory as a leading valve and actuator repair service provider.   
ABOUT NOVASPECT
Founded in 1936, Novaspect, an Emerson Impact Partner, has grown through the development of local resources and expertise dedicated to the continuous improvement of industrial process control. Novaspect's desired impact is to increase the success and sustainability of their customers and their communities and is a 100% Employee Owned Company. To learn more about Novaspect, please visit 
About Us
 and follow the company on 
LinkedIn
.
Frequently Asked Questions about the Novaspect-Stover Merger