Our website uses cookies. By continuing to browse our site you are agreeing to our Cookie Policy.

Mechanical Seals
We work with a multitude of customers who turn to Novaspect for expertise in mechanical seals — in design, selection, installation, field service, and more.
Portfolio of Sealing Products
• Split Seals​   • Cartridge Seals   • Cassette Seal   • Gas Seal   • Bellows Seals   • Slurry Seals   • Mixer / Agitator S​​​​eals   • Component Seals   • Specialty Seals   • Sealing Support Systems

Split Seals
​​​​​​​​​​​​​​​​​​​​​​​​​​​​​​Chesterton is the world leader in design innovation of split seals. Our innovative split seals have been used to seal thousands of process-critical pieces of rotating equipment with exceptional​​ ​results and many years of leak-free operations.
Chesterton was the first company to offer commercially-viable split seals for plant-wide use, which revolutionized pump sealing across industries. Since that time, we've launched a number of innovative split seal designs now used as a standard by companies around the globe.​ We offer shaft diameters ranging from 25-914​ mm (1-36 in.)​

​A split seal has components split into two equal halves which are secured as one unit on the seal shaft. The major advantage of the split seal design is that it allows you to install the seal with no dismantling of the pump (or equipment)—an enormous time-saver! Chesterton's split seals offer virtually leak-free performance. This leads to improved safety and environmental compliance and nearly eliminates sleeve wear, and flush water usage,  among many benefits.
Cartridge Seals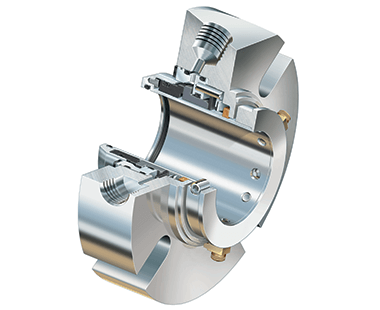 Chesterton's cartridge mechanical seals are the product of choice w​​​​hen reliability is a requirement. These products are proven, rugged performers in a wide range of sealing applications across industries. Cartridge seals are ideal for plant-wide standardization and save time with easy installation. Chesterton's cartridge seal offerings include exclusive, patented features such as self-centering lock rings and adjustable gland tabs.​

Why use a cartridge seal? A cartridge mechanical seal is a completely self-contained design requiring no assembly prior to installation. The operating position of the seal faces are preset, eliminating detailed, exacting measurements and possible damage or contamination.

These pages show a few sample products. Contact us to see our full line of cartridge seals and to discuss​​​ the best solution you your fluid sealing needs.
 
Contact us to talk to a Fluid Sealing Specialist about your immediate need and to learn how we can improve your operations's reliability and increase your productivity.