Our website uses cookies. By continuing to browse our site you are agreeing to our Cookie Policy.

Accuracy, Safety & Reliability
Tanker truck-mounted Lease Automated Custody Transfer (LACT) units are currently the best method to transfer the ownership of crude oil from the production lease to transportation.
With many interests involved, it is critical that your operation rely on accurate, safe, and reliable measurement, despite challenges of changing operating parameters and conditions, operations in remote locations, and harsh environments.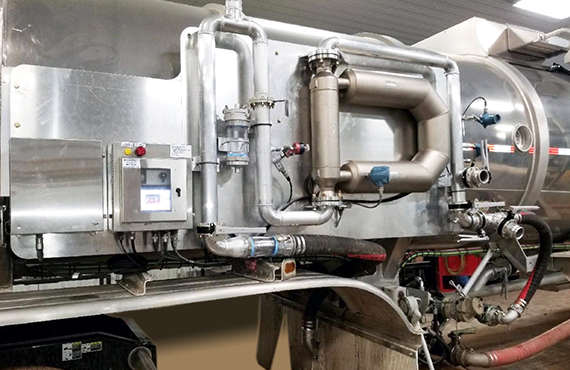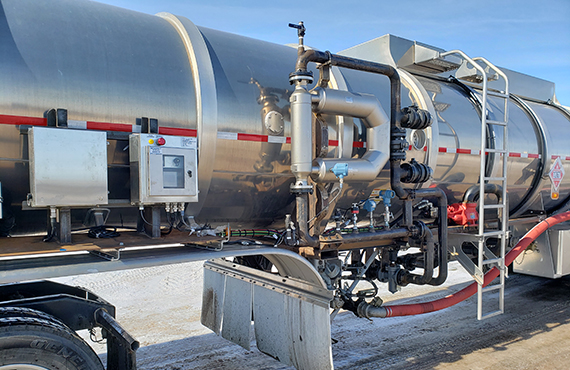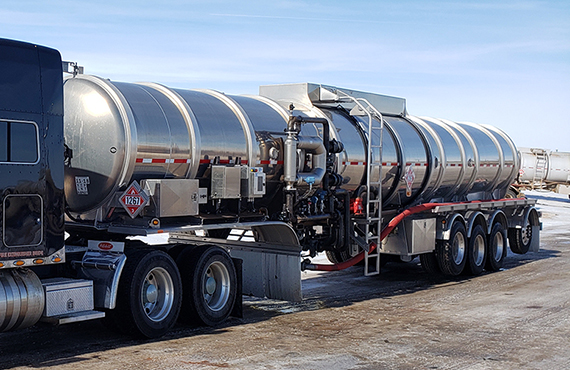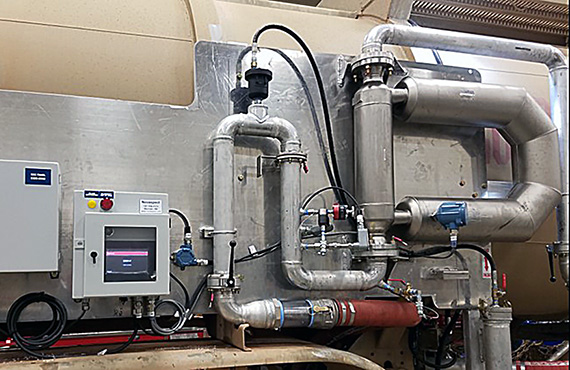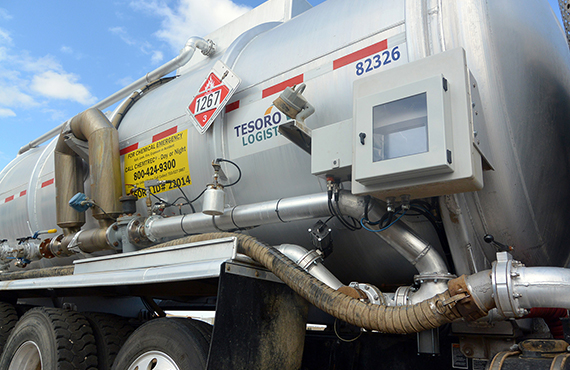 Mobile Truck-LACT
Improves Accuracy & Safety in Production Chain

Mobile Truck LACT Components / Features:

■ 3" Micro Motion Elite Meter CMF300M
• Flow Accuracy ± 0.10% of rate
• Density ± 0.0005 g/cc
• Temperature rated for -40°F to 140°F

■ Flow Computer ROC809L/FB3000
• API-compliant flow computer
• History and audit trail
• Alarm & event log
• Temperature rated for -40°F to 140°F

■ Custom LACT Program utilizing the Emerson Tank Manager & Liquids Program
• History of last 500 hauls
• Ability to record seal numbers
• API custody transfer liquid measurement

■ Seven-inch full-color graphical interface touchscreen
• Temperature rated for -22°F to 140°F
• Direct entry of alphanumeric data on display with drop-downs for key elements reduces data entry errors
• Secure display: login required for haul capability and access to client information
•Single-button access to last 3000 hauls, downloadable to USB memory stick

■ UL 508A-listed cabinet
• BLM-compliant audible and visual alarms for API gravity acceptable range and detection of air entrainment
•Proving pulse connection

■ Rosemount temperature transmitter / RTD / Thermowell: API-compliant; accuracy ± 0.5 °F (API Ch 7, Sect 2)

■ Rosemount pressure transmitter: accuracy ± 0.1 PSI

■ Sampler system with probe: 10cc sample acquired every three barrels

■ Turck C1D2 cables: quick-connect / disconnect wiring to all devices

■ Static mixer, strainer, air eliminator

■ Meter back-pressure component: three-inch orifice plate

■ Proving block and bleed valves

Benefits
■ Significant Savings in Load Accuracy
• Payback Period: Three months (based on: $60/BBL; 220 BBL haul; 0.5% error in tank gauging measurement; eight hauls per day)

■ Driver Safety
• Eliminates driver tank gauging
• Eliminates exposure to dangerous gas vapors
• Eliminates climbing tanks
• 40% reduction in loading time

■ Approved by the North Dakota Industrial Commission (NDIC)

■ Optimizes load capacity to DOT Regulations



Other Valuable Advantages:
Other valuable advantages of the Emerson automated system:
■ Protects against overfill. System can monitor gross volume and alarms at maximum truck capacity or shut down pump.
■ Eliminates tank strapping costs.
■ Optimizes load capacity to DOT regulations, thus providing cost savings on
truck operation.
■ Simultaneous on on-line measurement of gross volume, net volume,
temperature & density.
■ Reduces load times.
■ Rugged instrumentation.
■ Includes system historian.
■ Plug-and-play configuration with cabling.
■ Easy-touch screen user interface.
As an option, Novaspect can also assist with integration into mobile systems, SCADA, or offer direct ticket printing– plus local service and support in North Dakota. Contact Novaspect for additional information.
Download PDF of Truck-LACT Features & Benefits